The Wilson College English program invites all budding writers to attend the virtual Wilson College Colloquium on Creative Writing. Attendees will be able to enjoy lessons on writing technique, ask questions about the publishing process, and hear poetry from an internationally recognized poet. This is also a great opportunity to hone your craft, share your own writing, and spend time with other creative types who share your interests!
Saturday, October 31, 2020
9:50 a.m. - 2 p.m.
To be held virtually online via Zoom. Zoom invite to be sent after registration.
Register here.
Registration deadline is October 28.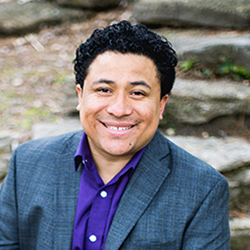 Keynote speaker, Manuel Iris will be leading a session on Ars Poetica and delivering the keynote address. Manuel is a Mexican Poet living in the United States, and current poet laureate of the City of Cincinnati, Ohio.
9:50: Welcome
 
10:00-10:50 Session 1
Manuel Iris: Writing an Ars Poetica 
Since Horace started the trend a few thousand years ago, an Ars Poetica is a poem about poetry, a meditation on poetry in the form of a poem. They are manifestos of an author's artistic beliefs. But they go beyond that: In stating the function of poetry, the poet declares the meaning of her own life. This kind of poem utters the terms of a battle against nothingness, against oblivion. Each Ars Poetica, answers two questions: What is poetry for? and—more importantly—what is my life for, if I dedicate it to translating silence? Some poets use their words to save themselves from loneliness, others use it to fight for justice, and some others use it to tell stories that otherwise will be forgotten. Every poet has a why. In this session, we will learn how (and why) to write an Ars Poetica. 
11:00-11:50 Session 2
Alicia Drumgoole: The House Down the Street
Memory is one of the writer's most powerful tools. During this session, we will talk about the value of using your own memories to create original, place-based writing. This session will focus on how the creation of vivid descriptions, local lore, and believable plot lines can inform and strengthen your writer's voice.  We will also discuss and apply strategies to help you use your own experiences to captivate an audience. 
12:00-12:50 
Manuel Iris: Keynote Address
Mexican Poet living in the United States, and current poet laureate of the City of Cincinnati, Ohio. He received the "Merida" National award of poetry (Mexico, 2009) for his book Notebook of dreams, and the Rodulfo Figueroa Regional award of poetry for his book The disguises of fire (Mexico, 2014). In 2016 three different anthologies of his poetic work were published: The naked light, in Venezuela; and Before the mystery, in El Salvador, and Traducir el silencio/Translating silence, in New York. This book won two different awards in the International Latino Book Awards in Los Angeles, California, in 2018.  
1:00-1:50 Session 3
Alicia Drumgoole, Michael G. Cornelius, Matt McBride: A Quick and Simple Guide to Publishing Your Poem, Story, or Novel
We all want to publish. But how do we go about it? And with the myriad technologies and publishing media available, what does "published" even mean anymore? This session will provide you with tips, resources, and tricks to publish both your short-form (poem, story, essay) and long-form works.