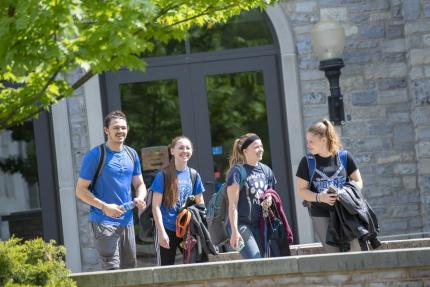 Wilson College continues to buck the higher education trend of declining enrollments. A total of 1,620 students are enrolled for the fall semester, an 8 percent increase over fall 2018 and another record for the 150-year-old college.
The greatest growth came in the college's teacher certification programs, where enrollment is up 39 percent over last year. Officials attribute the increase to Wilson's expansion of all certification programs to include an online format, as well as a traditional classroom format, and to a shortage of qualified teachers in Pennsylvania.
Enrollment in Wilson's 10 graduate programs also increased by double digits, with 546 students enrolled this year compared to 455 last fall, a 20 percent increase.
Officials point to Wilson's ability to respond to market demands for programs like nursing and the expansion of its graduate programs in education, as well as an increase in the college's online offerings, as some of the reasons for the college's growth.
"The college has been adept at providing the programs our students and prospective students tell us they want, while maintaining the personal attention, smaller class sizes and academic excellence for which Wilson is known," Vice President for Academic Affairs Elissa Heil said.
The 1,074 students enrolled in Wilson's undergraduate programs, including adult learners, is up nearly 2.9 percent this year. Of those, 662 students are enrolled in Wilson's traditional undergraduate program, nearly 60 percent of whom live on campus. The number of new freshmen entering the traditional undergraduate program grew more than 5 percent.
Wilson's top five majors this year among undergraduates are nursing, veterinary medical technology, animal studies, equine-facilitated therapeutics and business management.
This year's enrollment increase marks the sixth consecutive year of growth since Wilson enacted a series of measures approved in 2013 to revitalize the college and set it on a path toward economic health and sustainability. The steps included a tuition reduction and student loan buyback program, new career-oriented academic programs, campus improvements, coeducation in all programs and increased marketing and retention efforts.
Wilson's enrollment increases stand in stark contrast with national enrollment trends. Based on the most recent data available, the National Student Clearinghouse Research Center reported a decline of 1.7 percent in higher education enrollment nationally for fall 2018, while showing a 2.4 percent increase at four-year, nonprofit private colleges─largely due to the conversion of a large for-profit institution to nonprofit status, according to the NSCRC report.
"All in all, we did exceptionally well this year," said Interim Vice President for Enrollment David Boisvert. "I think our efforts to improve recruitment and financial aid strategies played a role, along with Wilson's reputation for excellence and value and the college's ability to provide programs that are in demand today."
Dual enrollment agreements with 11 regional high schools and articulation agreements with three community colleges have also helped to keep Wilson's enrollment on the upswing, according to Boisvert. Wilson has agreements that allow associate degree earners from Hagerstown Community College, Harrisburg Area Community College and Montgomery College in Maryland to seamlessly transfer here to pursue a bachelor's degree.
Since 2013, Wilson has seen a 115 percent increase in traditional undergraduate enrollment, with a 145 percent increase overall.
Wilson, which is celebrating the 150th anniversary of its founding in 1869, has students from 26 states, the District of Columbia and Puerto Rico, and 14 countries. The college has expanded its athletics program to include 11 NCAA Division III men's and women's teams. The college offers 35 undergraduate majors, 10 master's degree programs and a wide variety of teacher certification programs.
 
Published: September 18, 2019
Contact
Wilson College
Office of Marketing and Communications
1015 Philadelphia Avenue
Chambersburg, Pa. 17201