Wilson College was recently awarded a $3,000 grant from the Jean Morrow Fund of the Franklin County Foundation (FCF) that will enable the college's therapeutic riding program for special-needs residents to continue through the summer. FCF is a regional foundation of the Harrisburg-based Foundation for Enhancing Communities.
Wilson's equine-facilitated therapeutics (EFT) program serves disabled community members by building their physical, emotional and cognitive strengths through therapeutic riding. It is largely supported by volunteers from the college and the community.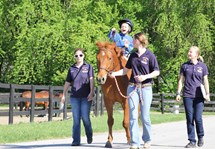 "We have not had a community riding program in the summer for therapeutic riding," said Ann O'Shallie, Wilson College associate professor of equestrian studies and EFT. "It's been a gap in our program."
During the academic year, students in Wilson's equestrian programs help with therapeutic riding lessons, but during the summer, fewer volunteers are available, which raises the cost of the riding sessions.
The grant will offset a large portion of the cost of therapeutic riding sessions in summer, making them more affordable for residents, O'Shallie said.
Wilson's summer therapeutic riding lessons are taught by instructors certified either by the Pennsylvania Council on Therapeutic Horsemanship or the national Association for Therapeutic Horsemanship.
For more information, contact Wilson media relations manager Cathy Mentzer at 717-262-2604 or cathy.mentzer@wilson.edu.
FOR IMMEDIATE RELEASE
DATE: June 18, 2013
CONTACT: Cathy Mentzer, Manager of Media Relations
Phone: 717-262-2604
Email: cathy.mentzer@wilson.edu
Published: July 28, 2015
Contact
Wilson College
Office of Marketing and Communications
1015 Philadelphia Avenue
Chambersburg, Pa. 17201