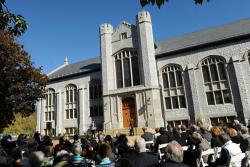 Wilson College celebrated its newly renovated John Stewart Memorial Library today with a rededication ceremony outside the historic, 1925 library building now enhanced by a new, state-of-the-art learning commons.
Wilson students, staff, faculty, alumni, trustees and friends attended the rededication for the $12 million Reimagining the John Stewart Memorial Library project, which included a complete rehabilitation of the original library building and the replacement of an outdated addition with a learning commons designed to meet the needs of today's educators and students.
"The John Stewart library project embodies all of the best qualities of Wilson College," said Wilson College President Barbara K. Mistick. "The Wilson community came together to support our students while the library was closed, and then again in making sure we could create a dynamic library and learning commons that will serve as the hub of academics at the college for years to come."
In addition to Mistick, speakers included State Rep. Rob Kauffman, Wilson Board of Trustees Chair Barbara L. Tenney, trustee and library fundraising committee chair Betty Lou Thompson and Katelyn Wingerd, president of the Class of 2016.
Libraries are the heart of a college campus—places not only for studying and research, but more and more today, also places for social gatherings, relaxation and student support services, according to Wingerd.
"In essence, they provide that much-needed balance between academic and social life on campus," she said. "As students, we look forward to having that place—that central space—where academics and campus life can thrive. We are very excited to have the John Stewart Memorial Library as the heart of Wilson College once again."
The college was forced to close the library after a catastrophic heating system failure in spring 2011. That fall, library functions were relocated to the former Sarah's Coffeehouse in Lenfest Commons and Wilson's Board of Trustees authorized the library capital project. The college then entered a silent phase of a fundraising campaign, which was formally announced in March 2013.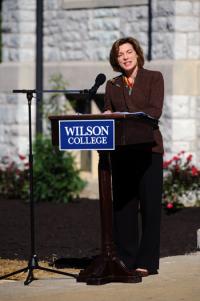 A groundbreaking ceremony for the library project was held Oct. 9, 2014. In just 12 months, the library project has taken shape, with contractors working year-round to bring it to near completion. The library will be fully open for the spring 2016 semester, according to officials.
The library project encompassed the repair and restoration of the 92-year-old Collegiate Gothic building and the replacement of a 1961 addition with a contemporary learning commons that will house academic support, writing labs, two "smart" classrooms, a commuter lounge, coffee shop, college store and outdoor plaza, as well as an art gallery.
The new learning commons was designed by architect Benedict Dubbs of Murray Associates Architects of Harrisburg. The general contractor for the project is R.S. Mowery & Sons of Mechanicsburg, which served in the same capacity for Wilson's Harry R. Brooks Science Complex.
The library fundraising effort has been one of the most successful in Wilson College history. Approximately 750 donors contributed to the project, allowing it to exceed its original $12 million goal. Several key contributions were important in generating momentum, including early gifts of $1.1 million from Thérèse "Terry" Murray Goodwin, a 1949 graduate of the college; a $3.6 matching gift from Marguerite Brooks Lenfest, a 1955 graduate; and gifts totaling $3.6 million from Sue Davison Cooley from the Class of 1944.
"We had an amazing response from a small community—impressive by any measure, but especially at a time of tremendous change for Wilson," said Camilla Rawleigh, Wilson vice president for institutional advancement. "We are deeply grateful to all who supported the effort."
In 2013, the college enacted the Wilson Today plan to transform the college into a thriving liberal arts institution, including adding programs, improving infrastructure and expanding coeducation. An updated library is an important component of Wilson's revitalization.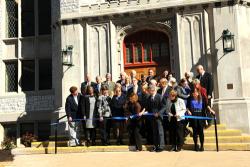 In addition to the library rededication, Wilson is celebrating several other events during the Oct.23-25 weekend, including Family Weekend and a "meet-the-artist" with Patrick Dougherty at 4:30 p.m. to celebrate the completion of Dougherty's "stickworks" environmental sculpture on the campus green.
The genesis of Wilson's original Stewart library was a $75,000 gift to the college made in 1922 by longtime Wilson trustee George H. Stewart, who made the contribution in honor of his late brother, John Stewart. Also a longtime Wilson trustee, John Stewart was a prominent Chambersburg citizen. A Civil War veteran, former chief burgess (mayor) of Chambersburg and local judge, he went on to become a justice on the Pennsylvania Supreme Court. He was serving in that capacity when he was struck and killed by a trolley car outside his home on Thanksgiving Day, 1920.
Ground was broken for the original library—which was designed by famed Philadelphia architectural firm Furness, Evans and Co.—in August 1923 and the building was completed the following November. The library served Wilson well until the book collection outgrew the facility and an annex was added in 1961-62. The first gift to the annex was made by actor Jimmy Stewart in honor of his mother, Elizabeth Jackson Stewart from the Class of 1894.
Published: October 23, 2015
Contact
Wilson College
Office of Marketing and Communications
1015 Philadelphia Avenue
Chambersburg, Pa. 17201