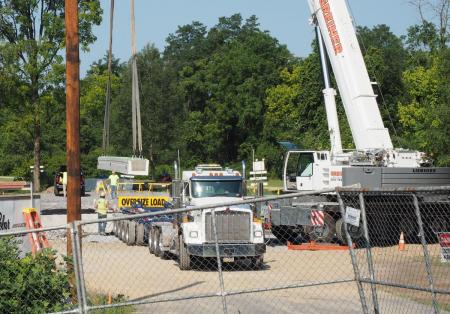 When the academic year came to a close in May, Wilson College began work on a number of construction projects, including replacement of a bridge leading to the western side of campus, as well as the creation of additional parking, residence hall improvements and updates to tennis courts.
The $1.8 million bridge, which spans the Conococheague Creek, will have two lanes and a pedestrian walkway, improving access to the college equestrian center, farm and athletics fields for emergency vehicles, sports team buses, horse vans and other vehicles.
Today, flaggers are directing traffic on U.S. 11 at South Penn Hall Drive while 11 72-foot-long concrete trusses are delivered, which is expected to take most of the day, college officials said. A large crane will be used to set the trusses in place.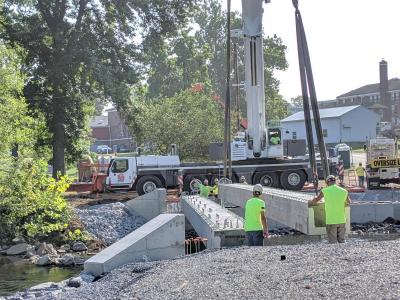 Wilson students, employees and visitors are asked to avoid the north entrance to campus and South Penn Hall Drive today. The main entrance at Park Avenue and the south entrance at Sharpe House can be used to access the campus.
The bridge is expected to be completed no later than the middle of September, according to Brian Ecker, Wilson vice president for finance and administration.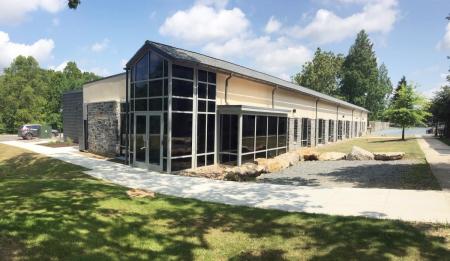 Meanwhile, finishing touches are being put on a new, $2.8 million veterinary education center, which is already in limited use. "The center will be fully functional for our students when they get back for the fall semester," Ecker said. An official opening of the new veterinary center will be held in September.
Demolition crews recently razed the former veterinary center along U.S. 11, as well as a building next to it used for art projects. After debris removal and grading is completed, the area will be paved, creating more than 60 new parking spaces. The work is planned to be completed sometime in early September.
Another project expected to get started in August will improve Wilson's existing tennis courts, while adding parking, Ecker said. Crews will resurface two of the five courts and reconfigure them for multi-purpose recreational use, including tennis, pickleball and basketball. The other three tennis courts will be converted into approximately 42 additional parking spaces.
In addition to those projects, workers are modernizing second-floor bathrooms in Riddle Hall and giving a facelift to the patio outside of Sarah's Coffeehouse, as well as the porch above. That work involved painting and some repairs to the building's fascia and spouting.vThe same area is the site of a mural being painted by local artist Peter Mazzone, with the help of volunteers. The mural was commissioned as part of Wilson's ongoing Sesquicentennial celebration and will be unveiled sometime this fall.
Published: August 1, 2019
Contact
Wilson College
Office of Marketing and Communications
1015 Philadelphia Avenue
Chambersburg, Pa. 17201