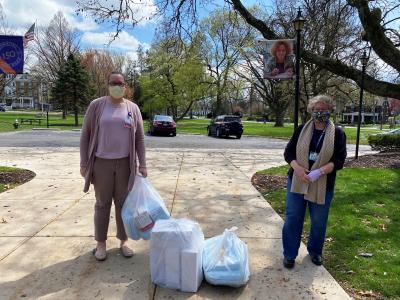 Wilson College has donated a surplus supply of personal protective equipment to WellSpan-Summit Health as a way to help alleviate the PPE shortage being experienced by healthcare facilities around the country because of the coronavirus pandemic.
Wilson, whose campus is closed under a statewide order shuttering non-life-sustaining businesses, had a small stock of PPE it acquired several years ago amid concerns about an Ebola outbreak, but never had to use, according to Vice President for Student Development Mary Beth Williams. She said the college donated gowns, gloves, masks, face shields and shoe covers.
"We didn't need them then and we don't need them now because we're shut down, so we contacted WellSpan," said Williams, who is also the dean of students. "We have a good relationship with WellSpan and I'm glad we could help in whatever small way we can."
Before the state closure order, WellSpan had been operating a clinic on the Wilson campus two days a week since last fall. Clinic operations were temporarily halted with the state-mandated precautions.
"Since opening WellSpan Convenient Care on the campus of Wilson College last fall, we have really enjoyed our growing relationship," said WellSpan Director of Retail Services Miranda Ramsey. "Times like these truly highlight the value of working together with one another and we truly appreciate this generous gesture."
Although the Wilson campus is closed and students will not return before the end of the spring semester, classes are continuing to be conducted remotely.
Published: April 9, 2020
Contact
Wilson College
Office of Marketing and Communications
1015 Philadelphia Avenue
Chambersburg, Pa. 17201