FOR IMMEDIATE RELEASE
Oct. 21, 2019
For further information, contact cathy.mentzer@wilson.edu or ccole@frederick.edu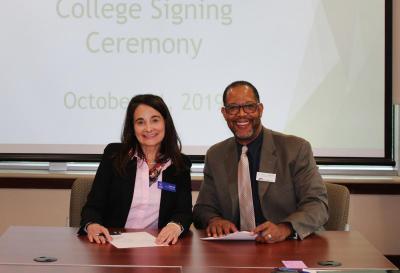 FREDERICK, Md.─Wilson College and Frederick Community College (FCC) have finalized an agreement that guarantees qualified FCC students admission to Wilson bachelor's degree programs and allows them to transfer all credits earned with a grade of C or better.
The articulation agreement, signed today by college officials at FCC in Frederick, Md., gives FCC associate degree graduates with a grade-point average of at least 2.0 benefits that will make continuing their education at Wilson as smooth as possible, including being granted full junior status at Wilson if they transfer 60 credits. Students will have Wilson's admission fee waived and qualified FCC students will also receive coordinated academic advising by both colleges to ensure that they take courses that can be applied to their bachelor's degree.
In addition, high-achieving students will receive monetary benefits: FCC graduates who are members of Phi Theta Kappa─the largest and most prestigious honor society for two-year college students─will be awarded a Wilson Presidential Scholarship of $12,000 if the student enrolls as a full-time residential student taking 15 credits or more per semester.
"We are happy to partner with Frederick Community College on this agreement because it expands Wilson's footprint and provides FCC students a seamless path to a Wilson bachelor's degree," said Wilson Vice President for Academic Affairs Elissa Heil. "Students will benefit professionally from having the tools they need to achieve even greater success."
The economic benefits of higher levels of education increase with each advancing degree, according to The College Payoff: Education, Occupations Lifetime Earnings. Over the course of a lifetime, someone with a bachelor's degree earns an average of $541,000 more than someone with an associate degree, the report states.
FCC sees this agreement with Wilson as a unique opportunity for its graduates to continue their education.
"We prioritize ensuring our students have many opportunities to continue their educational or career goals after completing their studies at FCC," said FCC President Elizabeth Burmaster. "This is the newest of many agreements we have with four-year institutions that ease the transition for our students, saving them time and money."
The agreement was signed by Heil and Tony D. Hawkins, FCC provost and executive vice president for academic affairs, continuing education and workforce development.
"FCC and Wilson College have a shared commitment to putting the needs of our students first and increasing access to higher education for all," said Hawkins. "This new agreement does just that, and we are proud to partner with Wilson College to set our students up for continued success."
About Wilson College
Founded in 1869, Wilson College is a private, coeducational liberal arts college in Chambersburg, Pa., that offers bachelor's degrees in 35 majors and graduate degrees in education, healthcare, nursing, business and the arts and humanities. Wilson is committed to providing an affordable education that offers value to its students beyond graduation. Wilson has a fall 2019 enrollment of 1,620 students in all programs. Visit www.wilson.edu for more information.
About FCC
Located in Frederick, Md., Frederick Community College (FCC) offers more than 85 degree and certificate programs through flexible learning formats that include day, evening, weekend, online and hybrid options. Accredited programs, comprehensive instruction and affordable costs of attendance have made FCC the learning destination for more than 200,000 students since 1957. With teaching and learning as our primary focus, FCC prepares a diverse student body to complete their goals of workforce preparation and credentialing, transfer, career development and personal enrichment with quality, innovative lifelong learning. Visit www.frederick.edu for more information.
Published: October 20, 2019
Contact
Wilson College
Office of Marketing and Communications
1015 Philadelphia Avenue
Chambersburg, Pa. 17201