At its 148th commencement ceremony held Sunday, May 13, Wilson College conferred degrees on 192 undergraduate and graduate students.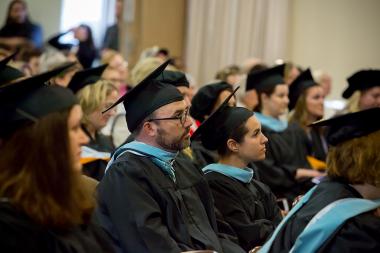 Twenty-five students graduated from Wilson's Master of Science in Nursing program: Charity Marie Barber-Heaton , Angela Marie Blair, Joyce M. Burkholder , Sean R. Corcoran , Monica L Diehl, Kelly A. Engel, Holly M. Friese, Maryann K Gaulding, Christina L. Hershey, Matthew E. Hopkins, Danielle R. Leedy, Wanda K. Leedy, Deana L. McClure, Katherine J. Merideth, Nicole A. Mills, Susan K. Monismith, Candy L. Moschetti, Teresa J. Napier, Nicole L. Naugle, Rhonda M. Rice, Sandra K. Strait, Catherine I. Szuchnicki, Heather R. Thompson, Hilary D. Weller and Erin Young.
Five students graduated from Wilson's Master of Fine Arts program: Lisa Ruth Harman and Kathleen Meyer Leiner, Anabella Guillermina Lenzu, Douglas Kenneth Mott and Lillian A. Oglesby.
Four students graduated from Wilson's Master of Educational Technology program: Pamela D. Grimminger, Debra K. Harte, Christina M. Peterson and Naomi Lynn Rupert.
Sixty-seven students graduated from Wilson's Master of Education program: Keara  Allshouse, Megan  Anderson, Leigh  Arnold, Shannon  Arnold, Ashton  Barry, Theresa J. Bechtel, Stephanie J. Blaker, Marcus M Brothers, Heather  Brown, Lisa M. Coder, Monica L. Cox, Laura B. Deyarmin, Dane M. Domonkos, Jessica  Durofchalk, Amanda J. Escolarte, Grace  Farabaugh, Tiffany  Frazier, Terra  Funston, Michael A. Furry, Christina  Giacchino, Meghan M. Girroir, Colleen A. Glenn, Kristen  Green , Dawn Murphy Hardman, Cierra L. Hough, Jeffrey R. Howe, Brittany N. Ilgenfritz, Ashley  Janson, Kayla  Kapinus, Colleen S. Kassman, Matthew J. Kilgore, Kate E. Kim, Jennifer  Kroboth, Elizabeth A. Lancaster, Catherine Bayley Leonard, Erin May, Jennifer L. McConnell, Sean P. McConnell, Jessica E. Morgan, Luke A. Nerone, Heather N Nyquist, Allison  O'Handly, Megan Over, Kortni Peropat, Molly A. Pomeroy-Hoover, Jodi Proctor, Kelly L. Robinson, Jennifer L. Rowe, Leighette  Sechrist, Kathryn  Settle, Debbie J. Shatzley, Dana F. Sheaffer, Rebecca P. Shertzer, Michaela J. Sicuranza, Kaitlin Slessinger, Ryan Small, Zachary Smith, Trina Snoke, Kayla A. Stickell, Kathleen A. Taylor, Stacie L. Trent, Lisa  Velazquez, Autumn M. White, Elizabeth  Whitehead, Courtney Wiser, Jennifer L. Wyant and Jayme Zimmerman.
One student graduated from Wilson's Master of Accountancy program: Darian Kaylee Hufcut.
Six students graduated from Wilson's Master of Arts in Humanities program: Frances Maria Caroscio, Adam C. Ellerbrock, Travis Frank Horton, Marybeth Richards, Ghada S.Y. Tafesh and Sarah L. Taylor-Foltz.
The following students graduated from Wilson College with bachelor's degrees: Mohammed Ali Alameer, Ahmed Saad Alshahrani, Taylor R. Amsley, Shayla Ladawn Appleby, Kristina Anne Bartholomew (distinction), Melissa Sue Beck (magna cum laude), Marquise Michael Beckett (magna cum laude), Martez A Beckett, Jacob Robert Benford, Ann Therese Bianca, Kirsten D. Bilger, Danielle R Boock, Ashley Brown, Kelsey Lynne Brunner (cum laude), Ashley R. Carbaugh (cum laude), Tiffany Ann Cobb, Justine Lee Commero, Lindsy Jo DeBross, Laura L. Deigert, Cody Reid Dunlap (cum laude), Dasia Janee Edwards, Kaitlyn Michelle Eller, Destiny Amber Feggins, Kristyn T. Fogg (magna cum laude), Daniel Robert Glazier (cum laude), Haley Angeline Glofka (summa cum laude), Amanda Marie Haase, Raechelle Marie Hilbish, Kelsey Marie Hockensmith, Ashley Nichole Horn, Timothy L. Horn, Jennifer Rebecca Hornberger, Rebecca Lynn House (cum laude),  Darian Kaylee Hufcut (cum laude),  Haley D. Hutchinson, Katherine Ann Jacobs, Raymond L. Kerr, Ian M. Kuykendall, Katie J. Lacko, Anita A. Laman (cum laude), Tara J. Leeking, Kirstin Marion Lehman, Miranda S. Long (honors in the major), Charlene Nichole Marthers, Erin Marie Martin, Katrina J Martin (magna cum laude),  Shannon Genette McKenzie (cum laude),  Kyle Lee McNew, Beverly A. Meyers, Katelin Marie Mowen, Hong Thuy Nguyen (cum laude),  Olivia A. Noone, Aurora M. Ortiz, Heather Paxson, Stephanie Marie Peebles (summa cum laude), Shelby N. Peiffer, Adele Rose Reinoehl, Deborah Ann Rifflard (magna cum laude), Michele Lynn Rogers, Karen Cynthia Saltzgiver (distinction), Abigail Oyler Selman, Roger Michael Shaffer (cum laude), Sarah Elizabeth Six, Andrea L Smith, Heidi Smith, Jenny D. Smith, Shelby E. Spencer, Erin Theresa Stephan (magna cum laude), Darren Grant Stephens (cum laude), Ryan P. Stine (magna cum laude), Autumn Carol Swartzlander, Stephen G. Thompson, Alaya P. Torpy, Esther Ruth Twombly (magna cum laude), Cierra Valentine, Sierra Jade Watson, Amanda E. Waxman (distinction), Audrae Morae Westurn, Kristy L. Zeis, Luori Zhuoma, Danielle R. Zona and Kaitlin V. Zwicker.
Two students graduated with associate degrees: Holly A. Mooney and Sierra Lynn Williams.
Published: August 28, 2018
Contact
Wilson College
Office of Marketing and Communications
1015 Philadelphia Avenue
Chambersburg, Pa. 17201