Wilson College students will present the results of their undergraduate and graduate research at Wilson's 9th annual Student Research Day on Friday, April 27. The public is invited to join Wilson students, faculty, staff and administrators at all events.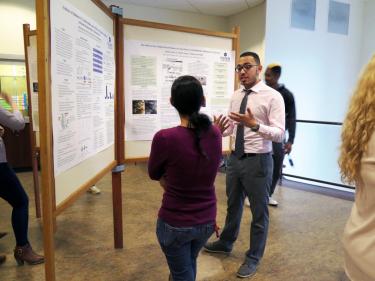 Approximately 41 students will give oral presentations based on their work, which was produced in conjunction with faculty advisers, beginning at 8:45 a.m. Sessions will run concurrently in the Brooks Science Center auditorium and John Stewart Memorial Library's Lenfest Learning Commons. In addition, a dance presentation choreographed by senior Shannon McKenzie and performed by students will be held at 11:30 a.m. in the dance studio in Davison Hall. All presentations will conclude by 5 p.m.
In addition to the oral presentations, other students will share their work graphically in a poster session to be held from 11:30 a.m. to 1:30 in Lenfest Commons.
"Student Research Day is an important day at Wilson College, providing a time to showcase the remarkable achievements of our students, "said Elissa Heil, vice president for academic affairs and dean of the faculty. "It's also a celebration of our strong student and faculty collaboration, on which Wilson College prides itself."  
Presentations will focus on the humanities, sciences and social sciences, including the prestigious Disert Scholar session from 4:20 to 4:50 p.m. in the Brooks auditorium. The Disert award, given to the student with the best honors thesis proposal, went this year to Deborah Rifflard of Harrisburg, Pa., who will present the results of her research on whether taking probiotics can be effective in achieving weight loss in humans. Her research project, "The Effects of Probiotics on Canine Weight and Fecal Fat Content," specifically studied the effect on weight of administering probiotics to a control group of whippets.
Other presentations will include examinations of: ways to prevent points of bacterial contamination in microbreweries (research was done in collaboration with Roy Pitz Brewing Co. in Chambersburg); how the media portrays individuals with autism and the potential for negative stereotyping; the efficacy of different composting processes used on Wilson's Fulton Farm; identifying effective practices in the training of assistance dogs; using DNA technology in efforts to conserve hoofed mammals (research was conducted through Wilson's partnership with the Smithsonian Conservation Biology Institute in Front Royal, Va.); and lynchings of African-Americans in and around Chambersburg contrasted with stories of individuals who fought for their rights as citizens during the Civil Rights Movement.
Group presentations will include a look at the public health challenges of sugar cane worker camps in the Dominican Republic (delivered by students who went on a Wilson-sponsored medical mission in January); observations from students who took part in the college's Martin Luther King Travel Seminar, which involves a week of travel to key civil rights sites in the South; lessons learned by staff members of Wilson's Billboard student newspaper at a college media convention.
Wilson's Student Research Day, which is sponsored this year by Volvo Construction Equipment and Highmark Blue Shield, will conclude with the annual Academic Awards presentation at 6 p.m. in the Brooks auditorium.
Student Research Day at Wilson was founded in 2010 as a way to recognize and celebrate the research, scholarship and creative activities of students and their faculty mentors. For more information, visit www.wilson.edu/student-research-day.
Published: April 12, 2018
Contact
Wilson College
Office of Marketing and Communications
1015 Philadelphia Avenue
Chambersburg, Pa. 17201