As part of an ongoing celebration of its 150th anniversary, Wilson College will host a performance by the Taylor 2 Dance Company at 7:30 p.m. Friday, Feb. 21, at the Capitol Theatre. Tickets are on sale now for the performance, which is open to the community.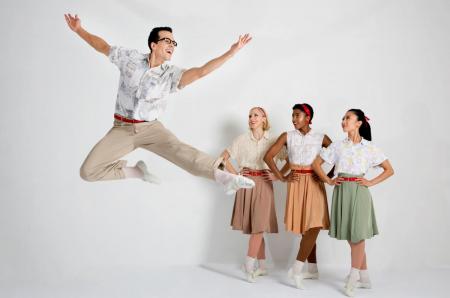 The six-member Taylor 2 Dance Company is one of two dance companies formed by legendary American choreographer Paul Taylor, who is regarded as a modern dance visionary. Taylor died in 2018. Taylor 2 and the larger Paul Taylor Dance Company, based in New York, perform Taylor's masterworks and offer dance concerts, master classes and lectures/demonstrations all over the world.
Taylor 2's performance at the Capitol is part of Paul Taylor: The Celebration Tour, which pays tribute to its founder. The Company will perform three masterworks from his collection: Airs, set to music by Handel, calls to mind the wind with movement reminiscent of gusts and eddies. In Company B, Taylor created a quintessential piece of Americana as he explored the turbulent era of the 1940s. Set to music performed by the Andrews Sisters, the dance incorporates elements of familiar social dances (the lindy, jitterbug and polka) in a work exploring the realities of relationships during World War II. Finally, Esplanade is an exuberant piece set to music from J.S. Bach, incorporating everyday movement in a visually exhilarating tour-de-force
After the performance, Wilson College Master of Fine Arts Program Director Joshua Legg will lead a question-and-answer session with Taylor 2 Director Cathy McCann and the dancers.
Tickets are $30 for adults, $18 for students and $12 for children under 12. Group rates are also available. Tickets can be purchased now by calling the theater box office at 717-263-0202 or visiting its website: www.thecapitoltheatre.org. Depending on availability, tickets will also be available at the door the evening of the performance.
The Taylor 2 company was established to ensure that performances could be seen all over the world, regardless of economic considerations and the logistical limitations of non-traditional venues, according to Legg.
"Paul Taylor, who helped forge modern dance during his 64- year career, was one of the greatest American dancemakers and his works encompass an unparalleled range of content, style and dynamics," Legg said.
The Celebration Tour─a multi-year, global celebration featuring more than 20 masterpieces spanning seven decades─was developed by Paul Taylor Dance Company Artistic Director Michael Novak as a way to pay tribute to Taylor, who he describes as "the last pantheon of choreographers who defined the distinctly American art of modern dance" over the course of his life.
"Taylor was hailed as 'the master of light and dark' for good reason: his repertoire of 147 dances covered an unprecedented range. There were dances that took an unflinching look at war, depravity and death. Other dances were very funny. And many reminded us of the poignancy of uninhibited love and hope," said Novak. "The Celebration Tour is an unprecedented opportunity for audiences and students to connect with Paul Taylor's history like never before."
For more information about the Taylor 2 performance, contact Joshua Legg at 717-264-2781.
Published: January 20, 2020
Contact
Wilson College
Office of Marketing and Communications
1015 Philadelphia Avenue
Chambersburg, Pa. 17201