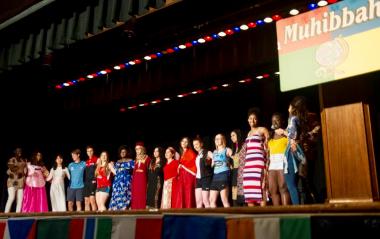 Wilson College's international student organization, the Muhibbah Club, will host its popular spring dinner featuring dishes from around the world on Saturday, March 2, in Jensen Dining Hall in Lenfest Commons. Doors open and appetizers will be served starting at 5 p.m., followed by dinner. Afterward, students will provide entertainment at 7:30 p.m. in Laird Hall.
The dinner will feature a variety of international foods, including:
•    Appetizers — Sate padang, gambas al ajillo, arancini
•    Entrées — Paella, sou-berag, Korean bulgogi, chicken biryani
•    Side Dishes — Mie aceh, jollof rice, garden salad, Caesar salad
•    Soups — Opor ayam and soto ayam
•    Desserts — Pavlova and tres leches cake
•    Beverages — Matcha and hot fruit tea
After dinner, members of the Muhibbah Club will provide entertainment, including traditional dances, piano pieces and other performances.
The public is invited to attend the dinner and free performance. Dinner tickets are $10 each. Reservations are required for the dinner only and must be made by Monday, Feb. 25. To make reservations, contact club adviser Crystal Lantz at iss@wilson.edu and provide your phone number, name and number of tickets needed. Payment (cash or check) will be collected at the door.
The Muhibbah Club will accept donations at the performance. All donations, as well as a portion of the proceeds from ticket sales, will go to the Cumberland Valley Animal Shelter.
The word "Muhibbah" means unity among nations. This year's Muhibbah Club president is Brooke McLachlan. Wilson's international students this semester come from over 15 different countries, including Albania, Ghana, Nepal, Vietnam, Armenia, Australia, South Korea, Pakistan and Uganda.
Published: February 13, 2019
Contact
Wilson College
Office of Marketing and Communications
1015 Philadelphia Avenue
Chambersburg, Pa. 17201