A farm-to-table, barbecue-style dinner celebrating Wilson's College's Fulton Farm, and local farming in general, will be held from 5 to 9 p.m. Saturday, Sept. 29,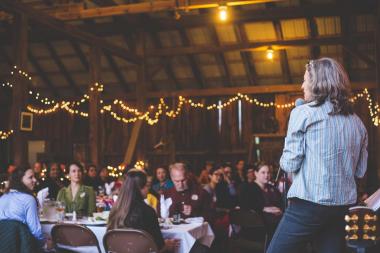 in Wilson's Laird Hall. Tickets for the 4th annual "People, Place, Plates" dinner, which will raise money for the Fulton Center for Sustainability Studies, are $48 per person or $85 per couple.
The dinner will feature organically grown food from the farm and other local partners. After dinner, guests can dance to live music from the Don't Look Down Band. Those attending will learn about Fulton Farm, its role at Wilson College and its contributions to the community, according to Chris Mayer, FCSS director. She said the dinner will also feature products from local family farms and food artisans, as well as a screening of a student-made short film about Fulton Farm through the seasons.
Proceeds from the event will support program development at the farm, including intern education, Mayer said.
Tickets for the fundraiser must be purchased by Sept. 20 and can be bought online at www.wilson.edu/ppp18. Supporters can buy tickets or sponsorships, or donate door prizes – all by visiting the link.
"People, Place, Plates" sponsors include cultivating partner Noelker and Hull Associates and Sunnyhill Properties, Snavely's Garden Corner and The Inn at Ragged Edge.
For more information, contact Chris Mayer at 717-264-4420 or christine.mayer@wilson.edu.
Published: September 3, 2018
Contact
Wilson College
Office of Marketing and Communications
1015 Philadelphia Avenue
Chambersburg, Pa. 17201