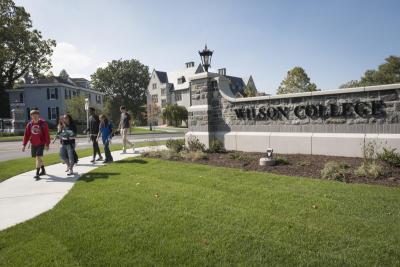 After holding tuition for traditional undergraduates without an increase for the past eight years–a span that included a 17 percent tuition reduction in 2014–Wilson College will increase tuition for traditional undergraduates and adult degree program students by 3 percent for the 2019-20 academic year.
The tuition adjustment translates to an additional $712 in tuition for full-time traditional students. With the increase, tuition and fees for traditional students living on campus will rise from $36,189 to $36,901 in 2019-20.
Room, board and fees for 2019-20 will remain at current levels.
The Wilson Board of Trustees, whose members voted on tuition and fees at their May 11-12 meeting, decided to hold the line on tuition for graduate students, as well as students in the Teacher Intern Program (TIP), for 2019-20.
Wilson has been distinguished as a "Best Value" college by U.S. News & World Report for 17 of the past 18 years─including a 2018 ranking of 5th best value school among regional colleges in the North─and has been recognized as a Tuition Hero and in a number of other rankings for its commitment to value.
The last time the College increased tuition for traditional undergraduates was in 2011-12.
"The time has come for a modest increase to keep up with rising expenses and inflation," said Wilson President Barbara K. Mistick. "The College remains committed to value and affordability, but we can no longer avoid a modest tuition increase. We believe that after eight years, a 3 percent adjustment for 2019-20 is fair."
Wilson's traditional undergraduate enrollment provides the single largest source of revenue to the institution. The 3 percent tuition hike for traditional undergraduates and adult degree students is expected to bring in an additional $470,000 in revenue for fiscal 2020.
Wilson College works with all prospective students to develop a financial aid package that will make their college education as affordable as possible. Nearly $19 million in aid is awarded through the College annually. The College also offers a Student Loan Buyback plan that pays up to $10,000 toward qualified students' federal Stafford Loans upon graduation.
Since Wilson's 2013 adoption of a series of measures aimed at rejuvenating the College and putting it on a path toward fiscal sustainability, the College has experienced significant enrollment growth. Total enrollment for fall 2017 was 1,216, which was up 84 percent over fall 2013 when enrollment was 662 across all programs, including traditional undergraduate, adult degree and graduate.
Published: June 8, 2018
Contact
Wilson College
Office of Marketing and Communications
1015 Philadelphia Avenue
Chambersburg, Pa. 17201