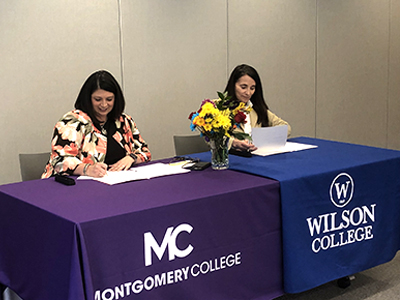 Wilson College and Montgomery College have finalized an agreement guaranteeing qualified MC students admission to Wilson bachelor's degree programs and allowing them to transfer all credits earned with a grade of C or better.
The articulation agreement, signed today by college officials at a ceremony at Montgomery College's Central Services building in Rockville, Md., gives MC associate degree graduates with a grade-point average of at least 2.0 a number of advantages that will make continuing their education at Wilson as seamless as possible, including receiving full junior status at Wilson if they transfer 60 credits, as well as having Wilson's admission fee waived. Qualified MC students will also receive coordinated academic advising by both colleges to ensure that they take courses that can be applied to their bachelor's degree.
High-achieving students will also receive monetary benefits: MC graduates who are members of Phi Theta Kappa─the largest and most prestigious honor society for two-year college students─will be awarded a Wilson Presidential Scholarship of $12,000 if the student enrolls as a full-time residential student taking 15 credits or more per semester. Under the agreement, an additional $1,000 Montgomery Institutional Scholarship will be awarded to all students who successfully graduate from MC, again as long as they enroll as a full-time residential student at Wilson.
The articulation agreement grew from the institutions' joint belief that cooperative programs benefit the community, employers and students in the colleges' respective regions, and that such programs provide smooth transitions for students while maximizing the number of credits they can transfer, officials said.
"The principle beneficiaries are the students … (who are) provided the opportunity of planning a baccalaureate degree program at the outset of the college education," according to the agreement.
"We are excited to partner with Montgomery College on this agreement because it breaks new ground for Wilson College by expanding our reach into the Washington, D.C. area, while giving MC students a clear, straightforward path to a Wilson bachelor's degree," said Wilson Vice President for Academic Affairs Elissa Heil. "And by advancing from an associate degree to a bachelor's, MC students will have the tools to achieve greater success in their careers."
As Maryland's premier community college, Montgomery College is dedicated to academic excellence and committed to student success. Dr. Sanjay Rai, senior vice president for academic affairs said, "We are constantly looking for transfer opportunities for our students where they will have outstanding student experience, they will not lose any credit and transfer with junior standing and with scholarship support. Wilson presents an ideal opportunity."
The economic benefits of higher levels of education increase with each advancing degree, according to The College Payoff: Education, Occupations Lifetime Earnings, a report on lifetime earnings by level of education published by the Georgetown University Center on Education and the Workforce. For example, over the course of a lifetime, an associate degree holder earns an average of $423,000 more than a person with only a high school diploma, and a bachelor's degree holder earns an average of $541,000 more than someone with an associate degree.
 
About Wilson College
Founded in 1869, Wilson College is a private, coeducational liberal arts college in Chambersburg, Pa., offering bachelor's degrees in 35 majors and graduate degrees in education, healthcare, nursing, business and the arts and humanities. Ranked as a top college and a "best value" in the region by U.S. News & World Report, Wilson is committed to providing an affordable education that offers value to its students beyond graduation. Wilson, located in Chambersburg, Pa., had a fall 2018 enrollment of 1,499. Visit www.wilson.edu for more information.
About Montgomery College
Montgomery College is a public, fully accredited institution with campuses in Germantown, Rockville and Takoma Park/Silver Spring (Md.), plus training and community engagement centers, and off-site programs throughout the county. It also offers a variety of online programs, including fully online degrees. Led by President DeRionne P. Pollard, MC is dedicated to student success and widely recognized for the quality and scope of its academic programs. Established in 1946, Montgomery College has grown to serve nearly 55,000 students a year, through both credit and noncredit programs, in more than 130 areas of study.
Published: Monday, June 21, 2021
Contact
Wilson College
Office of Marketing and Communications
1015 Philadelphia Avenue
Chambersburg, Pa. 17201