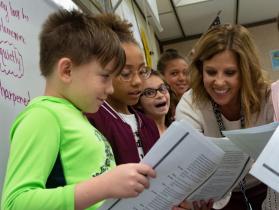 When Wilson College expanded its teacher certification program last fall to include an online-only option, it offered a limited number of Pennsylvania teacher certifications, including all secondary (7-12), as well as Spanish and business certifications. Now, based on current enrollment and inquiries, the college has expanded its offerings.
Starting immediately, students can enroll and pursue certifications in early childhood preK-4, middle level 4-8 (English language arts, math, science and social studies), and health and physical education. In addition, Wilson is offering dual certification in preK-4, middle level, secondary and special education.
For more information about all of Wilson's Teacher Certification Pathways program, including the online-only option, visit www.wilson.edu/tcp.
Published: January 30, 2019
Contact
Wilson College
Office of Marketing and Communications
1015 Philadelphia Avenue
Chambersburg, Pa. 17201