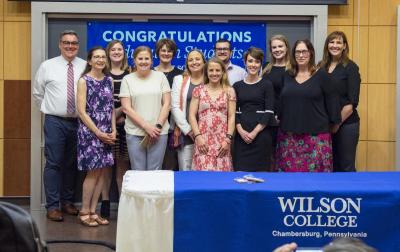 Forty-two students in the Wilson College Teacher Certification Pathways program were recognized at a May 10 ceremony at the college.
TCP completers are: Kayla Carlson, Ciji Holthaus, Sara Wikfors, Kirstin Belluscio, Cristina Clark-Cuadrado, Eileen Grob, Adrienne Macknair, Taylor Stuckey, Justin Alleman, Angela Cordle, Kathleen Elmore, Thomas Fallon, Steven Guthrie, Jessica Ingraham, Sarah Jansen, Derf Maitland, Karin Moore, Marc Peterson, William Renninger, Marlene Seifert, Andrew Simms, Brett Smyers, Matthew Stackhouse, Justin Staub, Odessa Trinkle, Ellen Bearn, Mark Bingaman, Shana Bonetti, Julie Brookens, Fumiko Brown, Megan Crawford, Celia Cuadrado, Kaleigh Herring, Patrick Hudson, Rebecca Hoke, Shelly Novak, Vanessa Paskaitis, Thelma Reibsome, Natalie Roll, Nick Roman, Dirk Brown and Erin Smith.
Approximately 40 people attended the recognition ceremony, which was held in the Brooks Science Complex and included remarks by Wilson Teacher Certification Pathways Director Beth Byers, Wilson Dean of Faculty Elissa Heil and Associate Professor of Education Lynn Newman, who also chairs the Division of Education and Business. Wilson President Barbara K. Mistick also attended and shook hands with the TCP completers who attended.
Approved by the Pennsylvania Department of Education in 1985, Wilson's TCP program allows those who already have bachelor's degrees to become certified to teach. Three distinct pathways fall under TCP: the TIP, FLIP (Foreign Language Intern Pathway) and TOP (Teacher Online Pathway) programs. A variety of certifications are available, covering all grades and including specialized areas such as special education. 
Published: May 14, 2019
Contact
Wilson College
Office of Marketing and Communications
1015 Philadelphia Avenue
Chambersburg, Pa. 17201