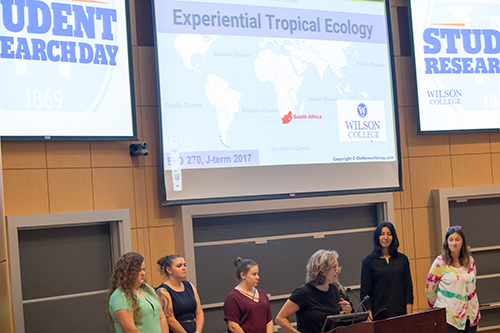 This special day is held to honor our students and faculty mentors in their pursuit of outstanding research, scholarship and creative activities. Organized as a professional conference, this day brings recognition and understanding of the wide spectrum of research disciplines Wilson students and faculty are involved in as they pursue creative, academic and scholarly achievements. Each student who participates has worked with one or more faculty mentors in exercising their intellectual and creative abilities which culminate in the research presented at this event.
Student Research Day is held annually and provides the unique opportunity for undergraduates – particularly seniors – to share their scholarly research or creative projects within a supportive community of faculty and peers. Students who anticipate graduate work at either the master's or doctoral levels are especially encouraged to participate.
Presentation formats can include:
Oral Presentation
Poster Presentation
Display
Demonstration
Multi-Media Presentation
Schedule of events includes several morning sessions of oral presentations and demonstrations. After a break for lunch, the day continues with several more sessions in the afternoon, as well as a poster session. The day concludes with an Academic Awards Ceremony and reception.