Wednesday, October 9
Arts Day is a day established by the Wilson community to celebrate the arts across the curriculum. It is an opportunity to appreciate the impact of the arts in our daily lives, and to explore the critical and creative nature of the visual and performing arts.
All events are free and open to the public.
---
ALL-DAY EVENTS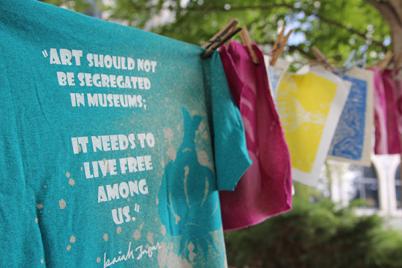 LORTZ HALL
Bogigian Gallery
The Foundry Artists
The Foundry exhibition is a selection of member artwork from Chambersburg's artist co-operative located at 100 South Main Street. Wilson College and The Foundry are partnering for a number of exciting opportunities for Wilson students and Foundry members. Visitors to the exhibition will see paintings, sculpture, prints and photographs.
Sponsored by Division of Arts & Letters, and The Foundry
Room 200
FA 142, Intro to Design
See artwork employing the grid, line and pattern to explore shape and space. Sponsored by Division of Arts & Letters, and Prof. Redding
Room 205 (Faculty Studio)
Faculty Open Studio
Drop in MFA Director Joshua Legg's painting studio to see works in progress, materials, and the artist's working environment.
Sponsored by Division of Arts & Letters, and Assoc. Dean and MFA Dir. Legg
Room 300 (Drawing/Painting Studio)
FA 116, Painting I Exhibition
Visitors will see copies of Paul Cézanne's 1900 Still Life, a masterpiece painting in the collection of the National Gallery of Art in Washington, D.C. Cezanne was often referred to as the Grandfather of Modernism, and is recognized for pushing color and form in new directions in late 19th-century France. The paintings on display in the studio were made during a two-week period and focus on the long-practiced technique of masterpiece copying, employed as a teaching methodology dating back to the Renaissance and beyond. Students explored light, color, form, expression and attention to detail. You will be impressed! Also, see 3 1/2-hour alla prima (Italian: on first attempt) paintings on studio easel.
Artists: Sarah Beitzell, Adrianna Broome, Jarrett Gelsinger, Luis Gonzalez Ayala, Daizy Helman, Liz Hockenberry, Mickayla Moffitt, Kim Nickey, Kim Phan, Gaby Rueda and Alexis Swanson. Sponsored by Division of Arts & Letters, and Prof. Lindsey
Room 306 (Seminar Room)
FYS 100-07, Digital Collage – Sense of Place
Students from First-Year Seminar, Section 07 worked in the graphic design studio and made digital collages addressing identity and home. Students were asked to develop a digital collage that engaged a sense of place as it relates to their home/hometown. Students were to consider specific objects, location/s, and/or experiences/memories that they consider significant as related to home. Artists: Collin Bitler, April Cielinski, Tiara Crawford, Caroline Dinenna, Chelsey Duncan, Michael Jeffries, Rachel Laidlaw, Juan Lamy, Kayleigh Layfield, Garret Meifert, Ariana Menser, Camryn Mountz, Michaela Piper, Ramique Preston, Lauren Squires, Alexis Swanson, and Danielle Wilson.
Sponsored by Division of Arts & Letters, and Prof. Lindsey
Room 308 (Faculty Studio)
Faculty Open Studio
Drop in Prof. Lindsey's studio to see works in progress, materials and the artist's working environment.
Sponsored by Division of Arts & Letters, and Prof. Lindsey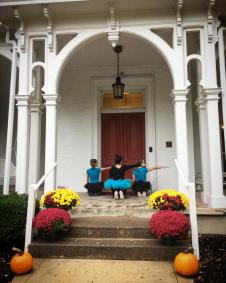 JOHN STEWART MEMORIAL LIBRARY
Cooley Gallery
Jim Condron: You Never Wash It Off Completely
An art exhibition celebrating the 150-year history of Wilson College, created by Baltimore artist Jim Condron using college relics and artifacts. Opens Wednesday, Sept. 4, in the Wilson library's Sue Davison Cooley Gallery. The exhibition will run through Dec. 15.
Sponsored by Division of Arts & Letters, and Assoc. Dean and MFA Dir. Legg
Bookish Art Display
Come wander the library and see works of art created by your own library staff and work-study students, all of it inspired by or related to books and the library. Share your favorites on social media using #artsday2019 and #jsmlibrary.
Sponsored by JSM Library and the Office of Marketing and Communications
Lenfest Commons
Art Display
Walk through lower Lenfest Commons and see art created by Wilson College students in the display cases! Sponsored by Prof. Mizanty, Prof. Dickson, and Fine Arts Work Study Adrianna Broome
SCHEDULED PRESENTATIONS AND EVENTS
9:00-12:00
Steamroller Printmaking
Join us printing giant woodcuts with a paving roller.
This year we are featuring a Sesquicentennial image of Wilson College from 1905, a new creation from the Penn's Woods Printmakers, and a special Steamroller Blues image from guest artist Christina Ottman. Professor Ottman is visiting all the way from Florida Southwestern State College to be a part of our event! The action starts at 9 a.m. in front of Lenfest and continues until noon. Come to watch, come to help! Meet our special guest roller driver!
Sponsored by by FA 216 Printmaking 1 and the Office of Institutional Advancement, with assistance from the Hankey Center and Prof. Dickson.
9:00 – 9:45
Fall 2019 Writing Series
Allen Auditorium in Warfield Hall
As part of the annual Arts Day celebration on campus, we are pleased to welcome poets Heather Hamilton and Eric Bliman to campus.
Heather Hamilton is a native of Mobile, Ala. She holds an MFA from the University of Florida and a PhD from the University of Cincinnati, where she received an Academy of American Poets prize. Her poems have appeared in Subtropics, Birmingham Poetry Review, RHINO, Willow Springs, Southern Poetry Review, Third Coast, Poetry Northwest and Verse Daily, among other journals. She lives in Harrisburg, Pa., and teaches at Pennsylvania State University—Harrisburg.
Eric Bliman's chapbook Travel and Leisure won the Poetry Society of America's National Chapbook Fellowship in 2012. His poems have appeared in the Times Literary Supplement, Subtropics, Southern Review, Quarterly West, Birmingham Poetry Review and other journals. He holds a PhD in English and Comparative Literature from the University of Cincinnati, where he volunteered at the Cincinnati Review. He teaches composition, technical writing and creative writing at Pennsylvania State University—Harrisburg.
The Writers Series is sponsored by the program in English and Wilson's MA in Humanities degree.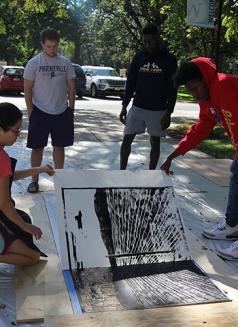 9:45 – 10:15 AM
Who's Following Who, Anyway? Live Music and Dance Collaboration
Sarah's Coffeehouse
This summer, dance professor Megan Mizanty and choir director Lisa Turchi started rehearsing together, exploring live singing with improvising. At Arts Day 2019, they'll perform live and share their work with the Wilson community. You'll have to decide if the song is creating the dance or the dance is making the song...
Sponsored by Division of Arts & Letters, Prof. Mizanty and Director Turchi
10:00 – 2:00 PM
Home-Away
Wilson College President's Office – Edgar 3rd
Even grandfathers can miss home, so Interim President Kneedler has brought along a variety of art works (none made by him!) as well as books, photos and other memorabilia. He looks forward to sharing this "collection" with other members of the campus community and hearing how they make a place for themselves in a room not quite of their own – especially, but not exclusively, with works of art.
Sponsored by Interim President A. R. Kneedler
10:00 AM – 4:00 PM
Mural Painting of the Chicken Wagon
Lenfest Commons
Come join the farmers and friends of Fulton Farm in painting a mural on the chicken wagon. Drop by and grab a brush, paint a few, or many strokes, and leave your mark.
Sponsored by Fulton Center for Sustainability Studies
11:30 – 11:40 AM
Advanced Techniques: Studio Showing
Dance Studio
Stop into the dance studio at 11:30 to see dance major Sami Heckendorn and dance minor Lauren Monahan perform their dance from class! The students are working on jazz-centric movement, with an emphasis on speed, control and agility. Your toes will start tapping. Sponsored by Division of Arts & Letters, and Prof. Mizanty
12-12:30 PM
Bible Study
Prayer Chapel (Lenfest 001)
All are invited to weekly Bible study.
Sponsored by Helen Carnell Eden Chaplain Derek Wadlington
12:30 – 3:00
Beneath These Pines and Maples: Historic Photographs of Wilson College
Hankey Center
A collection of rare photographs of long ago people and places. See if you can recognize the Wilson Campus and traditions of 1870! Also check out the original seats from Allen Auditorium and the dining hall, plus furniture from Sarah Wilson's bedroom and Margaret Disert's living room. Sponsored by The Hankey Center for the History of Women's Education
1:00 PM
Speaker: Bill Stead
JSM Library Learning Commons
Bill Stead, archaeologist and construction engineer, has worked on construction projects throughout America and globally. Most notably, he was the general manager of Attiko Metro, the firm responsible for the expansion of the subway system in Athens, Greece in the 1990's. He oversaw the construction of two new subways lines in Athens. Stead faced many challenges, as Athens is built over one of the world's great archaeological sites. He and his staff uncovered significant finds during rescue excavations, and the new metro stations have been transformed into mini-museums – taking advantage of a significant opportunity to engage the public with the past.
Sponsored by the Classics Club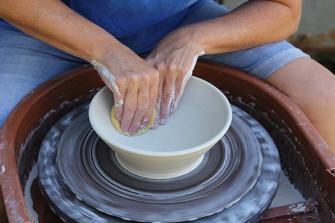 3:00 PM
Sesquicentennial Mural Unveiling with Artist Pete Mazzone
Lenfest Back Patio
Join local artist Pete Mazzone in the unveiling of his sesquicentennial mural, located on the back patio of Lenfest Commons. Mazzone will give a brief talk about the artwork and process. Sponsored by Office of Institutional Advancement, and Marketing & Communications
2:00 PM
Performance of the Wilson College Mounted Drill Team
Hawthorne Arena at Equestrian Center
This is a ridden, choreographed piece performed by members of the Mounted Drill Team and our school horses and ponies. Choreography and music selection was done in a large part by the team members themselves. This year's music has been selected from Disney's Hercules. Sponsored by Wilson College Mounted Drill Team and Coach Karly Bowe
2:30 – 3:45 PM
A History of Photography
Lortz 210
Ever wonder how your life became so image driven? It was not always like that. Find out more about the history of photography and its role from the 1830s into the digital age in this 75-minute slide talk from Professor Bob Dickson. Join FA 118 Photography 1 for popcorn and iced tea in Lortz 210 at 2:30.
Sponsored by Division of Arts & Letters, and Prof. Dickson
4:00 PM
Sophocles' Antigone
Classics on the JSM Library Patio (Rain Location: Sarah's Coffeehouse)
Antigone, daughter of Oedipus, is faced with a difficult choice. Her brothers have both died in combat.... While on opposite sides. One defended her home city of Thebes, one attacked it. One has been buried with honors, one left to rot in the fields. Will she bury her brother in accordance with the will of the gods? Or will she bow to the will of King Creon, her uncle, soon to be father-in- law, and King of Thebes?
What would you do? What does it take to be BOLD? Join us for a reading of Sophocles' classic tragedy, Antigone.
Sponsored by the Classics Club
---
A special thank you to event sponsors:
Associate Dean and MFA Dirrector Legg
Campus Safety
Choir
Choir Director Lisa Turchi
Classics Club
Division of Arts & Letters
Division of Integrated Sciences
Division of Student Development
Drama Club
English Program
Equestrian Studies Department
Fine Arts Work-Study Adrianna Broome
Fulton Center for Sustainable Studies
Hankey Center for the History of Women's Education
Office of Institutional Advancement
Interim President A. R. Kneedler
JSM Library Staff
Office of Marketing and Communications
Master's in Humanities Program
Mounted Drill Team
Mounted Drill Team Coach Karley Bowe
Mural Artist Pete Mazzone
Prof. Dickson
Prof. Harriger
Prof. Mizanty
Prof. Redding
Prof. Rock-McCutcheon
Rev. Derek Wadlington, Helen Carnell Eden Chaplain
The Foundry
Writers Series
Events, calendars and schedules: