The Common Hour
The Common Hour is dedicated to fostering inquiry and conversation across the campus community about pressing issues and big questions.
Living Boldy
This year Common Hour has partnered with the Wilson College Diversity Team on a spring series focused on Diversity, Equity, and Inclusion. The series kicks off on February 1 and will be held virtually. All Common Hour events are free and some are open to the public.
---
Spring Semester Events:
Mondays at 11 a.m. via Zoom
---
February 1*
The Wilson College Diversity Team
"A Time to Listen" and donuts to go (Update: donuts to go moved to Feb. 8 due to snow)
February 8
Philip Lindsey and Bob Dickson
A Celebration of Black Artists
February 15
President Fugate and Wilson College Faculty and Staff, moderated by Dean Mary Beth Williams
First Generation College Student Experiences Panel
February 22*
Moderated by Bonnie Rock-McCutcheon
March: Book 1 Reading Group
March 1
McKinley Melton, Gettysburg College
Voting Rights Talk
March 8
Amy Ensley and Pat Vail '63
"The Making of a Civil Rights Activist"
March 15
Co-sponsored by Psychology Club, moderated by Keri Kytola
Neurodiversity Series for Brain Awareness Week
March 22*
Moderated by Bonnie Rock-McCutcheon
March: Book 2 Reading Group
March 29*
Moderated by Jennifer Thomas
Being Heumann: An Unrepentant Memoir of a Disability Rights Activist Book Discussion
April 5
Co-sponsored with Counseling, moderated by Angela Baker
"What is Beauty? A Discussion about Helen of Troy and Beauty"
April 12
Co-sponsored with Muhibbah Club, moderated
by Matthew McBride
Diverse and International Poetry Reading for National Poetry Month
April 19
Chaplain Derek Wadlington
"A Time To Share: What Does Your Faith Look Like?"
April 26*
Moderated by Bonnie Rock-McCutcheon
March: Book 3 Reading Group
May 3*
#onewilson: A Celebration of Diversity at Wilson College
* Sessions closed to the public.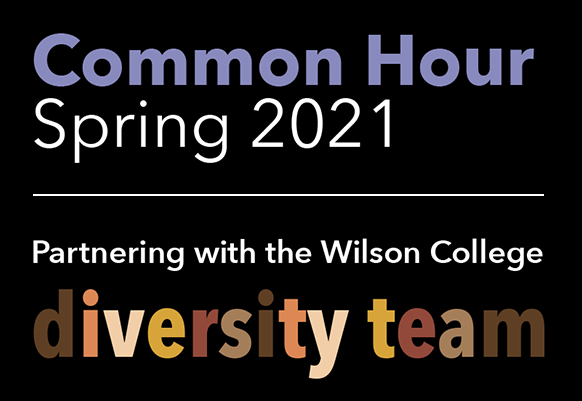 For more information about the Common Hour please follow the Common Hour on Facebook or contact Dr. David True at david.true@wilson.edu