Our Bachelor of Arts degree in healthcare and medical humanities connects practical knowledge with ethical values and is a more contemporary and holistic approach to care. With this foundation in both the sciences and the liberal arts, you will gain the essential skills of compassion, observation, communication, and diagnosis — qualities you need to be a successful healthcare professional, whether you are focused on the clinical or non-clinical side of medicine. This field of study is available as both a major and a minor.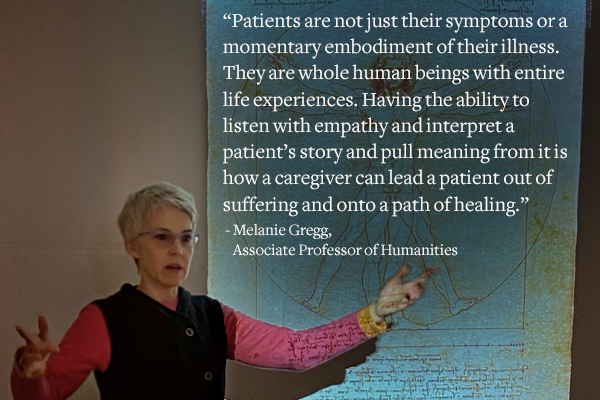 Highlights
Our interdisciplinary approach ensures you will hone your ability to perceive, observe, interpret, and have perspective — skills highly sought after in the healthcare field.
Through online and in-person coursework plus experiential classes, you will improve your communication skills, learn the keys to a strong patient-provider relationship, delve into socio-cultural awareness, experience self-reflection, and tackle problem-solving, conflict resolution, and stress management.
Classes are geared toward not just understanding others but getting inside the experiences of others.
 
Why Study Healthcare and Medical Humanities?
If you are interested in the ideas and practices that humanize the helping and healing professions, this degree is for you. At Wilson, we believe healthcare is not just about medical procedures; it is about care – compassionate efforts to restore and maintain physical, mental, and emotional well-being. Compassion, however, with the insight and skills required for a holistic approach, doesn't just happen; it is an art that must be learned.
 
Career Paths
Given the highly versatile nature of the field of healthcare and medical humanities, career paths for graduates of the program are plentiful. Students interested in the clinical side of medicine will be well prepared to go on to medical or nursing programs or advanced study in allied health fields such as 
•    Social work
•    Mental health
•    Physical therapy.
Students interested in non-clinical careers will be competitive upon degree completion for employment in hospitals, clinical settings, and ancillary medical services of all sorts, working in a variety of areas, such as
•    Health administration
•    Patient advocacy
•    Public health
•    Health education.
Have questions? Request more info.
 
---
Wilson College is committed to the importance and value of a college education. That's why we work hard to keep our degree programs affordable. Learn more about financial aid. 
This major is part of Wilson's Accelerated Master's program.
To learn how you can complete a bachelor's plus master's degree in five years (three for transfer students), click here.