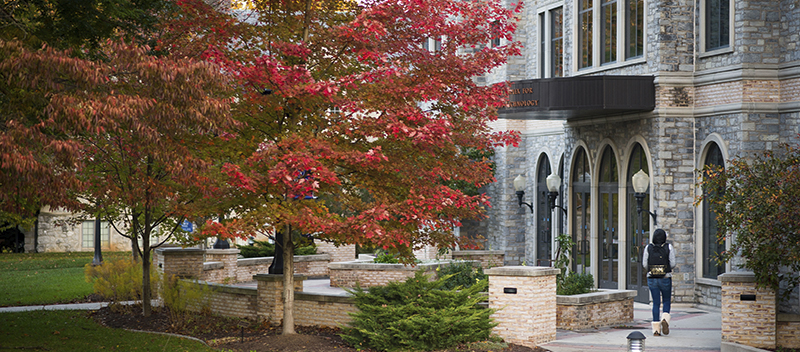 Join us on Zoom for a virtual information session.
We know an in-person visit is not always possible. So, we've created Virtual Information Sessions. Join us via Zoom on Tuesdays and/or Thursdays to learn more about our academic programs, campus life, or what our requirements are to transfer to Wilson from another higher ed. institution.
Register for a Tuesday - Learn about academic programs, student clubs, scholarships, athletics, and more,
Register for a Thursday - Transfer and adult student sessions focus on transferring to Wilson and degree completion.
---
Virtual Academic Session: Dance
Thursday, December 3, 2020, 3:30 to 4:30 p.m.
Join Assistant Professor of Dance & Assistant MFA Program Director, Megan Mizanty, for a conversation about Dance offerings at Wilson. Join the conversation about choreography, performance, arts administration, and dance education with our faculty and students.  The dance program is molded according to each student, giving you many opportunities to explore and experience the art of dance with fellow students and practitioners. This virtual event will be held via Zoom. 
Register now to secure your spot for the event!  Hope to see you there! 
---
Virtual Academic Session: English
Tuesday, December 8, 2020, 6 to 7:30 p.m.
Join Dr. Michael Cornelius for a conversation about majoring in English and writing. Learn about Wilson's majors in Literary Studies, Media Writing (including concentrations in Sports Journalism, Photojournalism, Equine Journalism, Science Writing and more) and Creative Writing and how these majors can lead to amazing career opportunities for you. This virtual event will be held via Zoom. 
As an added bonus, Dr. Cornelius is encouraging all registered students to send him a piece of their writing ahead of time—a short story, a couple of poems, pieces written for your school newspaper, a chapter from that book you plan to finish someday—whatever you like! Dr. C will end the session with a personal feedback workshop for each student. Dr. C. is himself the author of 20 books and has been a finalist for several national literary prizes—though, as he likes to remind everyone, he has never actually won any of them. More details about this opportunity will be e-mailed to you after registering for the event.
---
Encompass Info Night - In Person
Wednesday, December 9, 2020, 5:30 to 7:30 p.m.
Brooks Science Center
Encompass: STEM for Lifelong Success is program created through a partnership with the National Science Foundation that provides scholarship assistance and additonal support services for low-income students interested in science. If you are passionate about the sciences and hope to have a STEM-related career join us on campus to learn more about the opportunities available to students through the Encompass program. 
The event will include: 
Session with faculty to learn about STEM majors at Wilson College
Discussion of added benefits included in the Encompass program
Details on how to apply for the Encompass program and scholarship