Our Master of Applied Leadership degree gives graduates the tools to navigate an ever-changing world as leaders in business, healthcare, communications, organizational management, and many other fields. This online program develops the problem-solving, communication, and effective change management skills businesses prize in their leaders.
Highlights
Our online program is focused on helping students advance their careers. That's why we offer courses across multiple disciplines that provide professionals with targeted and flexible skills meant to strengthen their individual leadership styles. A Leadership Project helps students apply what they've learned toward a community-service initiative, culminating in a project that they design, implement, and lead.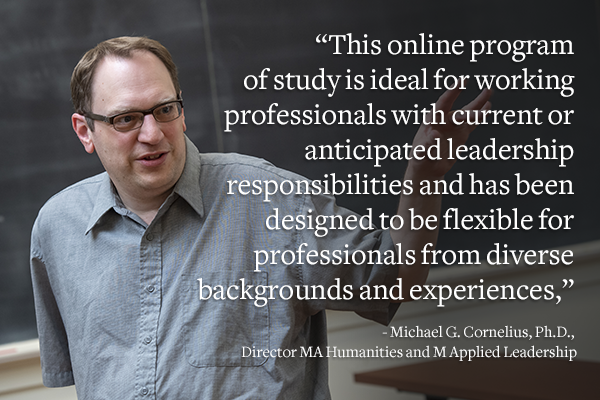 Why Study Applied Leadership?
At Wilson College, our leadership students will
•    Find innovative answers to problems and challenge
•    Deploy effective strategies to facilitate change and manage conflict on interpersonal, intrapersonal, and organizational levels
•    Communicate openly and broadly to diverse groups of people
•    Inspire individuals to work together toward a shared vision
Career Paths
Many of our students are already working professionals and this graduate degree in applied leadership will help them to advance in their current careers. For others, it will open doors to a wide variety of professions centered around the degree concentration they choose. Businesses and organizations value leaders with the problem-solving, communication, conflict resolution, and self-assurance this degree hones.
Have questions? Request more info. 
 
---
Wilson College is committed to the importance and value of a college education. That's why we work hard to keep our degree programs affordable. Learn more about financial aid.