Pennsylvania Academy of Science
Students Present Research at Pennsylvania Academy of Science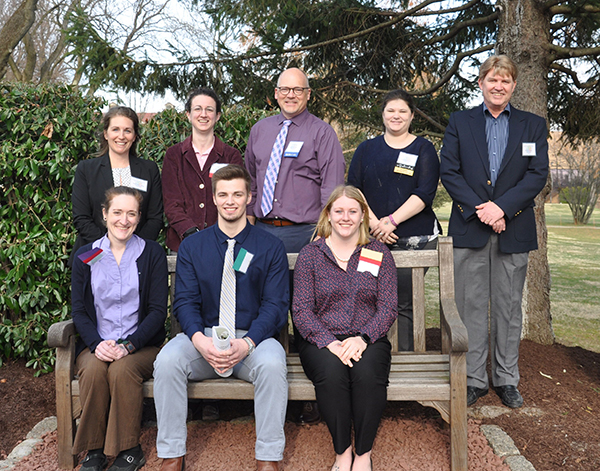 Students Present Research at Pennsylvania Academy of Science
Two Wilson College seniors presented the results of their research at the 95th Annual Meeting of the Pennsylvania Academy of Science (PAS), held March 29 to 31 at Cedar Crest College in Allentown, Pa.

Zachary McMaster of Gettysburg, Pa., presented his research project, "Analysis of the Effects of Pre-operative Physical Therapy on Range of Motion in Individuals Undergoing Total Knee Replacements," and Katelynn Gilbert of Thousand Palms, Calif., presented research on "Short-term Characterization of a Biofilm in a Free-flowing Freshwater Creek in South-central Pennsylvania."
McMaster, who is majoring in exercise and biological science, plans to pursue a doctor of chiropractic degree at New York Chiropractic College in the fall. Last year, he received the E. Grace White Summer Scholarship to support his research. The scholarship is awarded to outstanding juniors in biology for use at approved laboratories. 

Gilbert, who is majoring in biology, will continue her education at Wilson College next fall as she pursues a degree through the Master of Arts in Humanities program with a concentration in academic writing. Over the summer, she will serve an internship at the Living Desert Zoo and Gardens in California and her long-range goal is to become a veterinarian specializing in veterinary research. 
The students were accompanied to PAS by the following faculty members and faculty advisers: Deb Austin, Abigail Berkey, Brad Engle, Dana Harriger, Tonia Hess-Kling, Katie Sarachan and Rachael Zhu. 
At Wilson, students begin their projects in the spring of their junior year by writing a research proposal based on a specific question that they are interested in studying. In the subsequent fall semester, they complete lab work and collect data. This semester, the students have been focused on data analysis, writing a thesis and preparing to communicate their results at PAS.  The students share their results with the campus community during Wilson's annual Student Research Day.
Abstracts and photos of the presenters at the 2019 Pennsylvania Academy of Science
Abstracts and photos of the presenters at the 2018 Pennsylvania Academy of Science
Abstracts for the 2017 Pennsylvania Academy of Science