If you want to gain the real-world skills needed to work with animals as a veterinary technologist, the veterinary nursing program Wilson College is the place to start.

Pursue your future as a veterinary technologist
Students in this major benefit from both clinical and classroom experience in veterinary tasks such as surgical nursing, anesthesia, clinical laboratory, animal handling and radiology, fulfilling all clinical requirements set by the American Veterinary Medical Association (AVMA).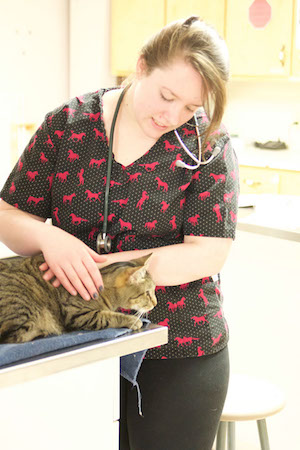 Veterinary nursing graduates earn a Bachelor of Science degree and are eligible for the National Veterinary Technician Examination and individual state licensure.
Three veterinary nursing concentrations available
The veterinary nursing program at Wilson College provides three different concentrations in the veterinary studies field: veterinary biology, veterinary business management and equi-assist
Veterinary biology concentration
The veterinary biology concentration prepares students for work in clinical practice, education, research and industry. This path provides a firm foundation for students looking to enter veterinary school; however, additional course work is necessary to fulfill the prerequisites required for entrance. An academic advisor will assist students with course planning.
Veterinary business management concentration
If you've always dreamed of opening your own private veterinary practice, the veterinary business management concentration will give you the tools your need to make it happen. In addition to becoming a veterinary technician, graduates from this track will also be prepared to take on leadership roles such as supervisor or hospital manager. Since many of the requirements are met through this concentration, students may also wish to pursue a minor and certificate in entrepreneurship and small business management.
Equi-Assist® concentration
One of the first programs of its kind in the nation, the Equi-Assist® concentration gives students the training and skills to work independently to provide equine nursing veterinary care in a horse's home environment. Under the direction of the attending veterinarian, students are trained to coordinate communication and care between a horse's owner, trainer, veterinarian and managers. This specialized training makes the veterinary technologist an invaluable resource to the veterinary medical team. Further reading: A Day in the Life of An Equine Veterinary Technician.
---
Wilson College Veterinary Nursing Mission Statement
The Veterinary Nursing program at Wilson College is committed to the education of highly qualified graduates for licensure and a career in the veterinary medical team environment. The Program is dedicated to the incorporation of the liberal arts and sciences into all aspects of the program curriculum and to the importance of professionalism and honor in all aspects of life upon graduation.
The veterinary nursing program is accredited by the American Veterinary Medical Association.
---
Wilson College is committed to the importance and value of a college education. That's why we work hard to keep our degree programs affordable. Learn more about financial aid.