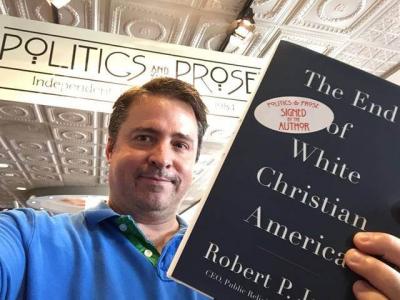 In recognition of its 150th anniversary, Wilson College is expanding its Common Hour series of lectures this year to include three evening talks at the Coyle Free Library, 102 N. Main St. At 7 p.m. Monday, Sept. 9, scholar and author Robert P. Jones will present Why Religion and Race are at the Heart of America's Identity Crisis in Coyle's new conservatory.
In the lecture, Jones will examine demographic and cultural changes taking place in America, notably that the United States is─for the first time in its history─no longer a nation where a majority of its citizens identify as white and Christian, and how the shift is affecting our politics and communities.
Jones also will speak at Wilson Monday, when he presents E Pluribus Duo? Partisanship, Polarization and Pluralism in America. The talk will be held at noon in the Stewart Library's Lenfest Learning Commons.
Both talks are free and open to the public.
Jones, author of the book The End of White Christian America, is a leading scholar and commentator on religion and politics. He is the founding CEO of the Public Religion Research Institute, a nonprofit, nonpartisan research and education organization that conducts public opinion polls on a variety of different topics, specializing in the quantitative and qualitative study of political issues as they relate to religious values.
Jones writes a column for The Atlantic online on politics and culture and appears regularly on Interfaith Voices, the nation's leading religion news-magazine on public radio. He is frequently featured in major national media such as MSNBC, CNN, NPR, the New York Times and Washington Post.
Wilson's Common Hour─a lecture series dedicated to fostering inquiry and conversation across the campus community on pressing issues and big questions─this year has the theme "Living Boldly" to mark the college's Sesquicentennial. The 2019-20 series kicked off on campus on Sept. 2 and will feature a total of 11 talks and one dance performance.
The next lecture at Coyle Free Library will be held Oct. 7 with a talk by June Eric-Udorie, a journalist and feminist named "Female Activist of the Year" by Elle UK magazine in 2017. The last talk at Coyle will be held Nov. 4, featuring Kait Parker, host of the Weather Channel's Warming Signs podcast. Topics will be announced later.
For more on the Common Hour, including a schedule and biographies of the speakers, visit wilson.edu/common-hour.
Published: September 5, 2019
Contact
Wilson College
Office of Marketing and Communications
1015 Philadelphia Avenue
Chambersburg, Pa. 17201