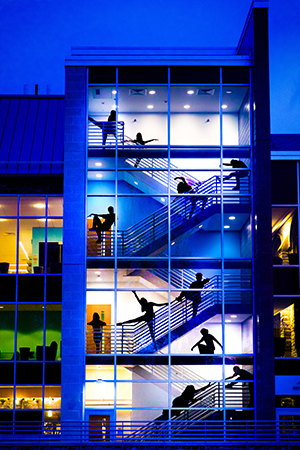 About:
Created in the 1940s, Orchesis is Wilson College's premiere dance ensemble.  We are a fun, supportive team that gives members an opportunity to experience all facets of dance: choreography, performance, costume design and more.  No experience is necessary.  Orchesis attempts to introduce students to the broadest opportunities possible for active participation in the various forms of dance. Students work with visiting artists; attend performances in other venues; study in New York City; engage in choreographic projects; work in the community to educate and develop an audience for dance; gain experience in lighting, sound and costume design – all technical aspects of performance.
Orchesis participates in school activities and collaborates with other groups to create a sense of camaraderie on campus. Fundraisers are held throughout the year to raise money for events that strengthen the dance curriculum. Visiting artists, intensive study in dance at off-campus sites, and cost of tickets for trips to view dance are all supported by Orchesis.
Meetings:
Orchesis meets every Monday from 4:00-6:00. During this time we collaborate and rehearse our group dance that is performed at the end of the semester. Typically, the show also features solos, duets, trio, etc, so other rehearsals take place throughout all days of the week.  
 
Events:
At the end of every semester we have our performance that is open to the campus as well as the community (both on and off campus). Every semester we invite a guest artist to stay for a week and teach classes. This week is also open to the entire campus.
Occasionally we will perform in other events around the school such as Arts Day and events like that. Our shows each semester are a full production, involving:  lighting design, costume design, a full marketing and advertising plan, and extensive collaboration/communication with other departments on campus (such as Marketing and Communication, Admissions, and the Fine Arts and Dance Department). 
Membership:
Anyone is welcome to join. No experience is needed. We place dancers in the group piece, as well as smaller pieces, accommodating all dance levels. Orchesis can be taken for two credits, or recreationally. 
---
Wilson College is committed to the importance and value of a college education. That's why we work hard to keep our degree programs affordable. Learn more about financial aid. 
Contact
Megan Mizanty
Assistant Professor of Dance & Assistant MFA Program Director
megan.mizanty@wilson.edu
(717) 264-2783