Introducing – The Wilson College Pen Pal Program Fall 2020
In a world where it is suddenly more challenging to connect with family and friends in person, many of us turn to connection via technology. While it is not the same as seeing loved ones or getting hugs or sharing a meal, we seek connection where possible. The Alumni Relations Office, in partnership with the Alumnae Association of Wilson College, is offering to connect those without technology and those who desire to connect with another Wilson alum through participation in our NEW Pen Pal Program.  
Those interested are asked to complete the Pen Pal Request Form and staff will pair each person with a Wilson volunteer. Similar to our long-standing tradition of the Aunt Sarah Program that connects students with alums, the WC Pen Pal will be in contact with through a letter, phone call or an occasional small package to brighten their day. The hope is that these pairings develop into an ongoing source of sharing Wilson stories, life interests and personal connection that emphasizes each individual as a valued member of the extended Wilson College community.
If you would like to request a WC Pen Pal, please contact Alumni Relations at 717-262-2010. Volunteers please fill out this online response form. Participants will receive follow up information from office staff regarding their pairing.
We hope this is the beginning of a special connection to those with shared life journeys at Wilson College. We always look forward to hearing from our alums, near and far.
If you need any assistance, please contact Alumni Relations at 717-262-2010.
Marybeth Famulare Honorary '17
Director of Alumni Relations        
Katie Shank '19 & '21 M
Alumni Relations Associate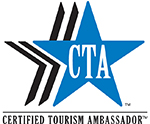 Wilson College proudly carries the designation of having Certified Tourism Ambassador (CTA) program graduates among our staff and alumni. When you click on the CTA icon on our webpage, it links you to Explore Franklin County https://www.explorefranklincountypa.com/home/, our local visitor's center website.