Wilson College presents
Saturation: A Year in the Life by Wilson College and Hagerstown Community College Fine Arts & Dance Faculty
Tuesday, April 6 through Friday, April 30, 2021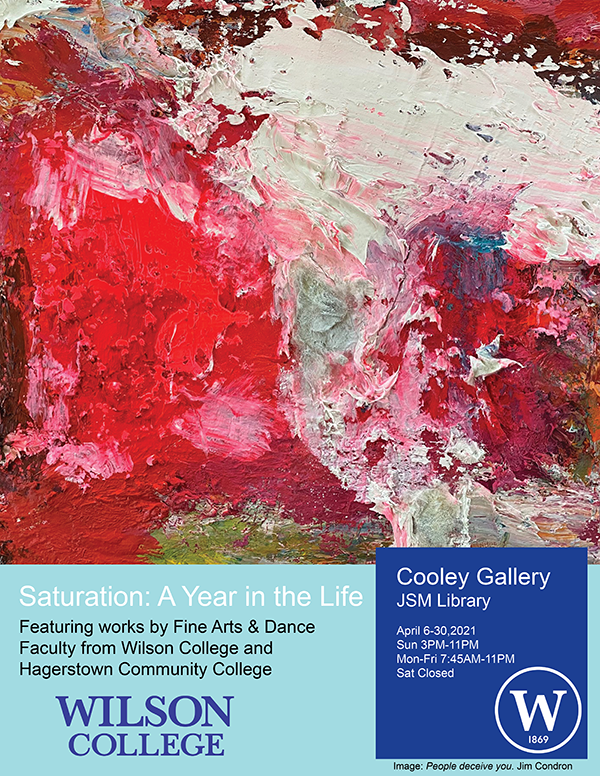 About the Cooley Gallery
The Sue Davison Cooley Gallery is an exhibition venue to the Wilson College community. Located on the second floor of the beautifully renovated John Stewart Memorial Library, Cooley Gallery provides space for students and professional artists to share their creative voice with a community of scholars. Professional artist exhibitions typically run for an entire semester, while student and resident artist exhibitions run during summer months.
The Cooley Gallery is named in honor of Wilson alumna Sue Davison Cooley '44, a Portland, OR area philanthropist and Wilson College benefactor. Like Bogigian Gallery, Cooley is a crucial teaching tool for fine arts program and mission, with a commitment to excellence and professionalism in each exhibition.
Cooley Gallery is open Mon – Thur 8AM – 11PM, Fri 8 AM – 5 PM, Sat 9 AM – 5 PM, and Sun 1 PM – 11 PM. Admission is free. For additional information or an appointment, contact Joshua Legg, Cooley Gallery Curator, at joshua.legg@wilson.edu.
View previous work in the art exhibition archive.