The gallery is an exhibition space where students and the community can experience the visual arts at Wilson College. It is an important teaching tool used by the fine arts program to fulfill its mission.
 
Exhibits include a variety of media by different artists with a focus on local, regional and national talent. There are two exhibitions each semester including an annual student exhibition, biennial faculty/staff exhibitions and an annual exhibition for summer artists-in-residence.
 
The gallery is named in honor of Hagop Bogigian, a benefactor of the College. Bogigian came to America from Armenia in 1876 and became a successful businessperson and an activist against injustice.
The Bogigian Gallery is located in Lortz Hall and is open from 9 a.m. to 5 p.m. Monday through Friday. Admission is free. For additional information or an appointment, contact Professor of Fine Arts Philip Lindsey at 717-264-4141, Ext. 3305, or philip.lindsey@wilson.edu.
View previous work in the art exhibition archive. 
---
Current Exhibit 
The Foundry Artists at Wilson - Fifth Annual Exhibition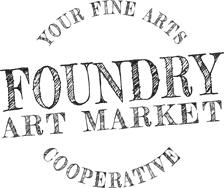 View some of the exhibit here and the full exhibit here.
A free exhibition of artwork will be on display Wednesday, Sept. 8, at the Bogigian Gallery, Wilson College, featuring the work of members of The Foundry. The gallery is in Lortz Hall.
The exhibition will include a selection of member artwork from The Foundry—an artist co-operative located at 100 South Main St., Chambersburg, Pa. Current members have been invited to exhibit two works of art. Viewers can expect to see paintings, drawings, photographs, sculptures, and more!
For additional information or an appointment, contact Philip Lindsey at 717.264.2783, or philip.lindsey@wilson.edu.