The Wilson College juried high school art exhibition will be held in the Bogigian Gallery in Lortz Hall from Nov. 1 to Dec. 7, 2018, with an opening reception on  November 1, 4:30-6 p.m. It is a chance for student artists to see their artwork displayed in a professional venue and possibly win cash or a scholarship. View the winners of the 7th Annual Juried High School Student Art Exhibition here.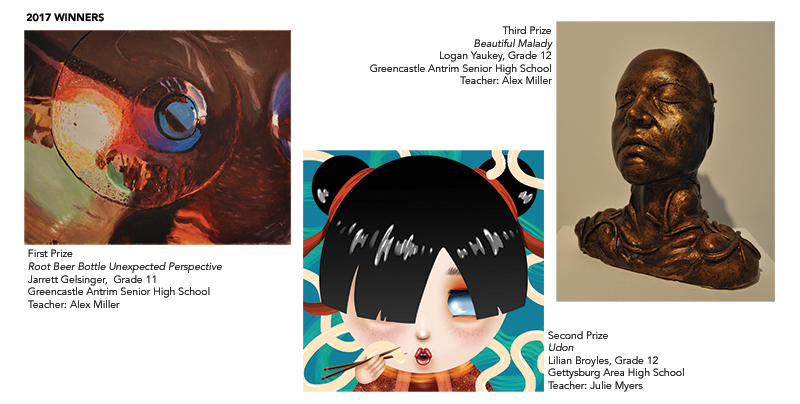 Entry
Each artist may submit up to three works of art. There is no entry fee. Artwork is to be submitted in digital (.jpg) format of up to one megabyte. Entries are to be emailed to wilsonartshow@gmail.com by the deadline of midnight on Oct. 17, 2018. Two-  and three-dimensional works of art will be considered. Artists submitting film or video must be able to provide their own hardware and software should their work be accepted for exhibition.  All accepted work must be exhibition ready, meaning that all 2-D works are to be wired with no exposed glass edges.
Eligibility
The show is open to students from Franklin, Adams, Cumberland and Fulton counties in Pennsylvania and Washington County, Md. All submissions must have been completed while the student was in high school and not previously exhibited in Bogigian Gallery.
Prizes
Cash prizes of $200, $100 and $50 will be awarded for first, second and third places, respectively, and other works of note will receive honorable mention. In addition, the following monetary scholarships will be offered to winning students if they enroll at Wilson: $1,000 each year for up to four years for first place; $1,500 for one year for second place; $1,000 for one year for third place.
Jury
Wilson College Fine Arts Faculty
Sales
The sale of work will be encouraged and no commission will be charged for sold work.
Schedule
Deadline for entry: midnight, Oct. 17, 2018
Exhibition Dates: Nov. 1 to Dec. 7, 2018
Opening Reception: Nov. 1, 4:30 to 6:00 p.m., Bogigian Gallery, Lortz Hall
Drop-off artwork: October 22-27, 9AM – 5PM daily, or by appointment
Pickup of artwork: December 8-14, 9AM – 5 PM daily, or by appointment
The Department of Arts and Letters will assume no responsibility for artwork left after January 1, 2019
Include the following information for each work of art submitted (limit of 3):
Artist
Artist's Email 
Title
Date of Completion
Medium
Price if item is for sale
School
Grade
Teacher
Teacher's Email
Email entries to: wilsonartshow@gmail.com
For more information, contact Lindsey at philip.lindsey@wilson.edu or 717-264-2783